a more accurate design.
Frank Miller Lumber, a sawmill and producer of quartersawn and plainsawn hardwoods, needed a new website and brand design that more accurately represented their company.
When ruef started working with Frank Miller Lumber on the messaging strategy, their team expressed opinions about the state of the previous corporate branding. The consensus of opinion was that the previous website left visitors with the impression that they were a flooring manufacturer, not a high-quality hardwood sawmill. We all agreed that we needed to go back to our roots (pun intended) and highlight what makes Frank Miller unique.
We started with the logo design.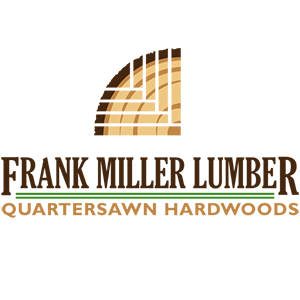 You'll notice the old-school typeface, which harks back to logos of Frank Miller Lumber's past. And the icon, which represents a quartersawn-cut log.
This effort to rebrand Frank Miller Lumber represents their revitalized approach to communicating the true nature of their company – an Indiana sawmill and a leading provider of Premier American Hardwoods.
See the website live by visiting FrankMiller.com.