There must be something about Dayton, Ohio, that brings out the innovation in people. Perhaps it's in the water, which comes from the Great Miami Buried Valley Aquifer, one of the largest and most productive aquifer systems in the country. Perhaps it's in the heritage of the people of Dayton, home to the men who invented human flight, the cash register, and the concept of the modern factory.
Or, perhaps Daytonians are highly inventive because, well, there isn't much else to do here. There is one Dayton inventor who gained notoriety by making this realization and leaving Dayton to travel the world. His name was Andrew Sheet Iddings, and we can thank him for the advancement of 3D images, among other things.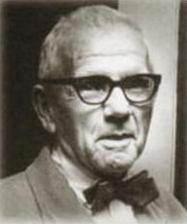 Iddings was born in Dayton in 1880 to a family of lawyers. While Iddings continued the family tradition of law (and was an excellent attorney), he is better known for his travels and discoveries in photography. In 1908, he was hired by the Keystone View Company to travel the world and take stereoscopic images and tell exciting narratives of his journeys. For more than a decade, Iddings took thousands of glass plate stereographic negatives which he carefully waterproofed, packed and shipped to back to Keystone in Pennsylvania. He also worked for National Geographic Magazine, taking stereopticon views of the Near East, Balkans and South America for several years beginning in 1910. Most notably during this time, Iddings developed the stereographic negative process which eventually led to the development of 3D images.
In 1916, Iddings helped his brother Roscoe found the Fyr-Fyter Company, which manufactured fire extinguishers in Dayton until 1947, when the company was sold. Roscoe, also an inventor, pioneered the development of the iconic red stainless 2 1/2 gallon fire extinguisher, patenting a number of improvements to the device.
In 1919, Iddings was sent overseas by the U.S. Government to photograph the postwar devastation. Many of these photographs became the first audiovisual material used in America's classrooms.
Iddings returned to law in his later years, but continued to travel regularly. He never married, but was a social man, always willing to talk at length about his global adventures.
In 1966, Iddings and his brother Roscoe made a grant to Miami University to construct a six-foot diameter geo-physical globe which, when it was built, was considered the finest of its kind due to its scientific accuracy, technical construction and artistic detail. The globe occupied the lobby of Shideler Hall until late 2014, when it was deemed no longer accurate and moved to the Lane Library on campus.
After Iddings died in 1974, hundreds of priceless negatives were found in his attic and donated to Wright State University. They included never-before-seen photos of the Wright Brothers' homecoming parade in 1909.
Dayton is home to many inventors, some more well-known than others. And while there may not be much to do in this Gem City, it only frees up more time for creating, innovating and exploring.