DAYTON, Ohio, August 23, 2018 — ruef Design, a digital marketing and media firm based in Dayton, Ohio, today launched the new website and branding for Firefighter Cancer Consultants, LLC, which assists fire departments across the country with establishing or enhancing their firefighter cancer awareness, prevention, and support programs. ruef Design was founded in 2013 by former Dayton firefighter Zack Ruef. His firm is made up of a team of passionate creatives specializing in product design, 3D design, web design, graphic design, and full video production, and has clients in industries ranging from lumber manufacturing and automation to gourmet chocolates.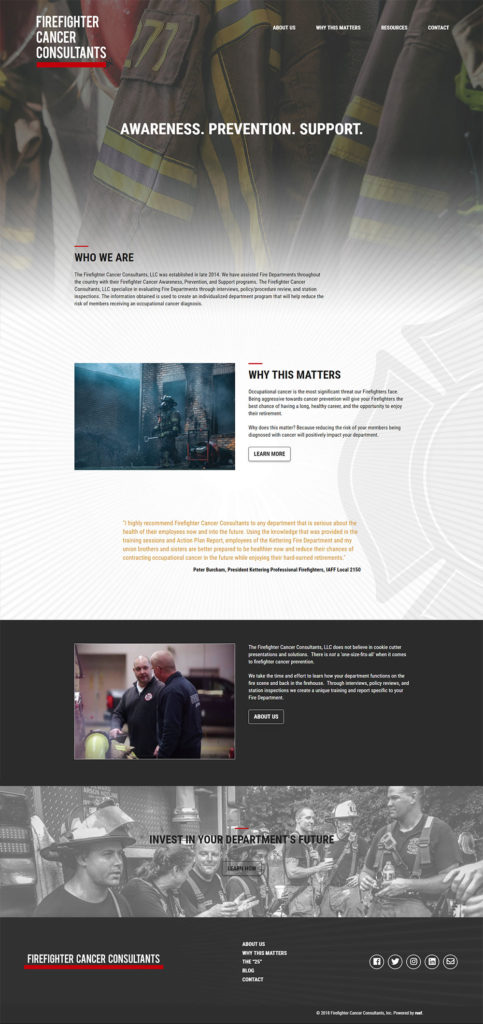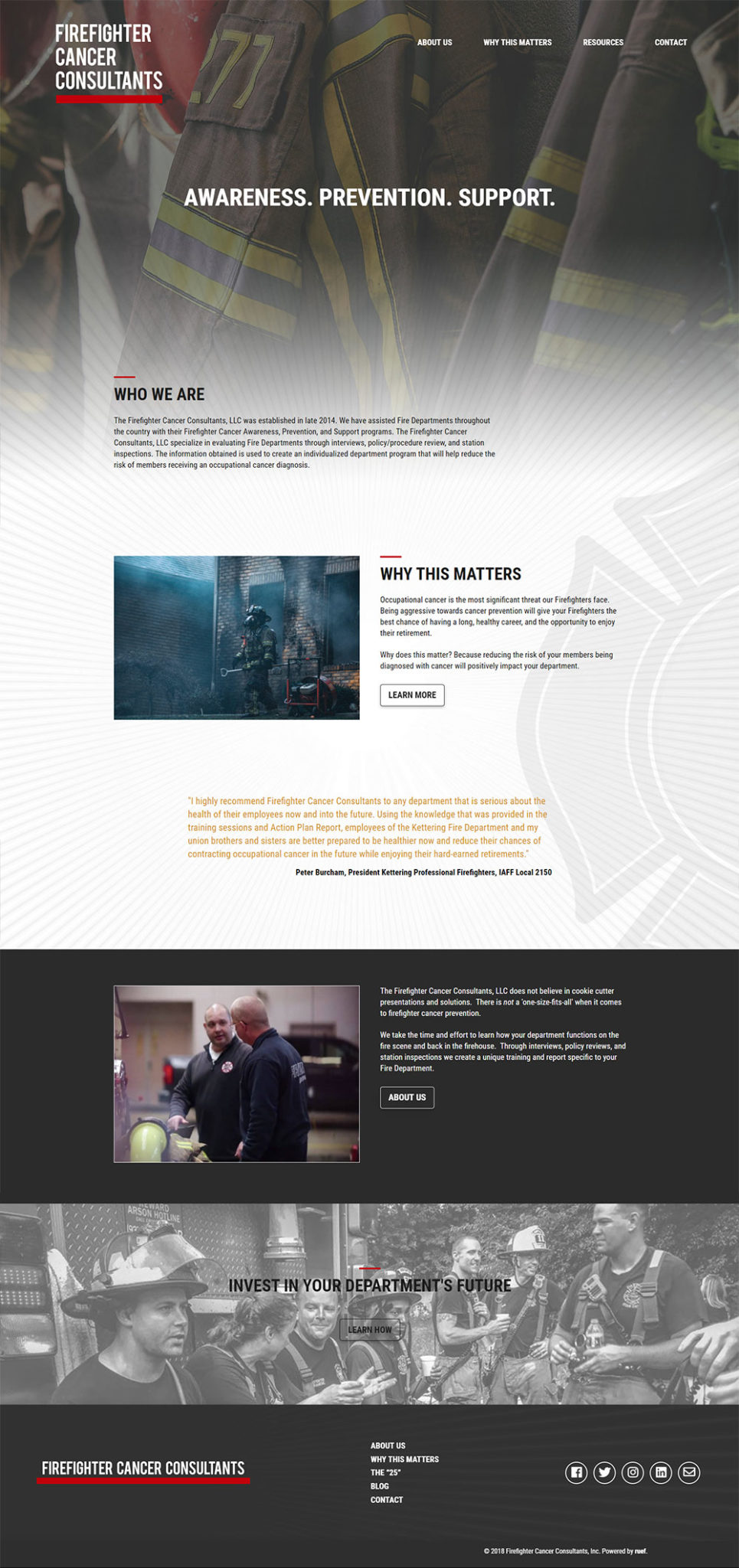 Coming from a family of firefighters (Ruef's father and grandfather were captains in the Dayton Fire Department), Zack Ruef has a long history of serving the Dayton community. After working as a firefighter/paramedic for the City of Dayton for four years, Ruef transitioned into a full-time design career, earning a Master of Fine Arts from the San Francisco Art Institute in 2009. Ruef went on to specialize in industrial design, product development, 3D modeling and 3D animation, and industrial marketing. ruef Design currently has seven employees and an office in Washington Township. The firm regularly works with interns from the University of Dayton and The Modern College of Design (formerly The School of Advertising Art).
Firefighter Cancer Consultants approached the team at ruef Design with the intention of upgrading the company's website. Ruef offered to redesign the organization's website and logo for free. Ruef's unique history as a firefighter and passion for helping the community made his design firm the perfect fit for Firefighter Cancer Consultants' needs.
"I know how difficult the job is, and cancer is one of those hidden threats that isn't always top of mind of as a firefighter," said Zack Ruef. "We love that our design work could be a part of something as important as what Jim is doing with Firefighter Cancer Consultants."
Established in 2014, the goal of Firefighter Cancer Consultants is to help fellow firefighters be proactive in their health and ensure that the number one cause of firefighter deaths – occupational cancer – does not become a reality. The Firefighter Cancer Consultants strive to help their members have long, healthy careers, as well as the opportunity to enjoy their retirement with their families.
"The results were well beyond our initial vision," said Jim Burneka, president and founder of Firefighter Cancer Consultants. "The team at ruef Design took the time to learn the specific needs of the company. Not only did they elevate our website, they were able to elevate the brand of the Firefighter Cancer Consultants. I can't recommend ruef Design enough if you are in the market for a new website or could use some guidance in marketing."
The new Firefighter Cancer Consultants website can be found at www.firefightercancerconsultants.com. ruef Design plans to begin its next non-profit project in early 2019 focusing on arts and education.
ruef (www.https://ruef.com) merges art, engineering and strategic communications to produce compelling designs and effective digital marketing campaigns. The design firm works on client projects ranging from web design and graphic design to 3D and 2D animation, interactive applications, product design, and full video production, with internal projects ranging from testing in AR and VR to developing video games. ruef Design was established in 2013 in Dayton, OH.