There's a word used so often today in business development, design, and marketing that it has lost almost all meaning or impact. And yet design companies and marketers continue to exhaust the word in taglines, videos, websites, messaging and copy, both internally and in the work they provide for their clients. It's an obvious and boring word, and seemingly applied only when these companies don't know what else to say.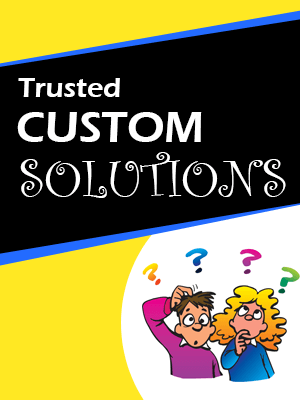 I'm talking of course about the vacuous term, 'solutions,' the definition of which is quite literally, "the act of solving a problem." The only forgivable instance where the word could be used to describe a company is if the company is called "Problem Solvers, Inc.," a name so meaningless and vague that it's worthy of a meaningless and vague descriptor.
Aside from being an empty statement, the greatest offense of marketers and designers using the word 'solutions' is that it's profoundly lazy. Instead of thinking strategically about the services they offer and spending a great deal of time planning how to convey the strongest message possible, these companies said, "eh, screw it – just say we provide solutions." Which is like saying, "we do stuff."
How can such a company be trusted with solving any problem at all?
No matter the medium, ruef always communicates with direction, intelligence and substance. No fluff necessary.
Through research, we apply significant effort to understand your company, your market and audience, and your products on an engineering level. Our lead designer is a multi-patented inventor and award-winning design engineer. The design and media strategies we develop for companies are always supported by in-depth research and accurate, concise information, all with one goal in mind: to help your company sell and grow.
Be wary of designers and marketers who promise 'solutions', as chances are they have no idea what they do, let alone how they can help your company.
Get in touch with ruef when you're ready to work with a comprehensive design and media studio that doesn't offer 'solutions,' but video production, graphic design, 3D modeling and rendering, 2D and 3D animation, interactive applications, motion graphics, and much more.